Dust's Season 3 Podcast: Chrysalis
Dust produced an amazingly successful podcast in their first season named Horizons. They followed it up with another fantastic season called Flight 008. What do they do for season 3?
They find an obscure copypasta on an even more obscure subreddit (r/HFY) and turn it into one of the best podcasts ever produced. Listen to it on watchdust.com or literally any podcast platform.
You'd be crazy not to check out Dust's Chrysalis podcast. Utterly insane. All 14 episodes.
Check Out Chrysalis Part One
Brief Summary of Chrysalis (No Spoilers!)
"I woke to a dead world."
What a chilling opening line. It sets the tone for the entire story.
"I awoke to 8 billion corpses."
Chrysalis is dark. A sentient being – AI – wakes up on a destroyed planet Earth. Everyone is dead. The AI soon learns a strange alien species is responsible for the annihilation of the human species. After unsuccessfully searching the entire planet for life, the last 'human' decides to seek vengeance for humanity.
I told you it'd be a brief summary.
Podcast Production
Each episode features brilliant voice acting, perfect sound effects, and a soundtrack fitting for each suspenseful moment. Episode 5 was particularly exquisite. In one scene, interference disrupts. Dust's audio team pulled off the most believable sounding interference, showing incredible attention to detail.
The Impressive Voice-Cast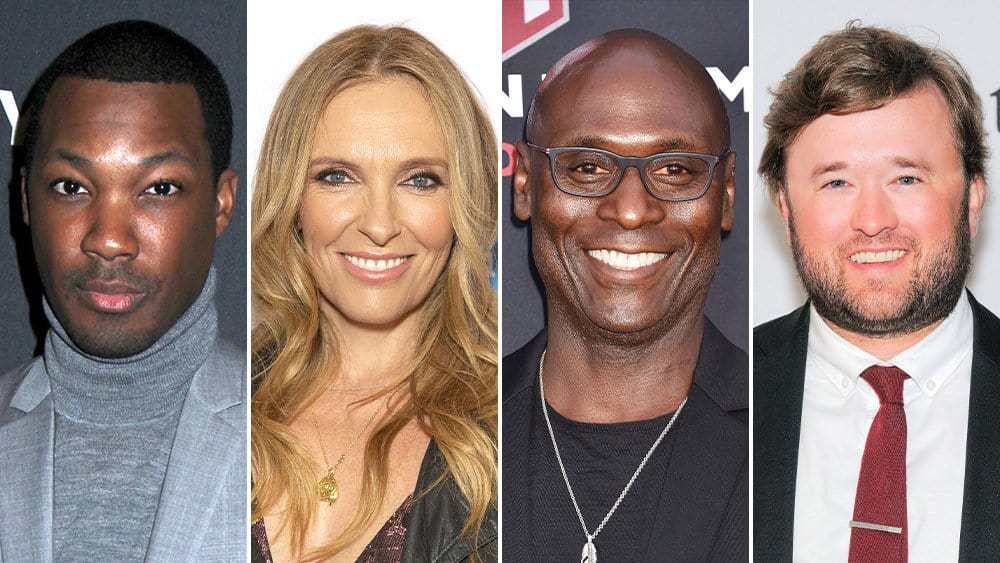 Not only did I welcome the opportunity to link arms with Gunpowder & Sky and Dust on their coveted podcast series, but as a fan of the sci-fi genre, I'm also excited to combine my roles as an actor and producer to delve deeper into the creative process.

Corey Hawkins, recent Emmy nominee
Dust parent company Gunpowder & Sky is quickly becoming for millennials what MTV was for Gen Xers. Led by former Viacom exec Van Toffler, the newer company has already created Dust for sci-fi fans, Alter for horror fans, and films and short videos for Quibi and other streaming apps.
Toffler found huge success in his 28-year career at Viacom. He played a key role in making MTV the powerhouse it turned into. Directly involved in the creation of The Real World, Jackass, Beavis & Butt-Head, VMA's, CMAs, and many more, Toffler has the creative chops to work magic with Gunpowder & Sky.
I needed to get back to my love of jumping off cliffs without knowing how/where I might land and making expectation-defying content that boldly breaks through new boundaries.

Van Toffler in his exit letter to Viacom employees in 2015
Gunpowder & Sky's main focus is to create content for the digital-first generation. I'd say they're off to a damn good start.
Source Material – r/HFY Subreddit
Originally posted on Reddit's r/HFY subreddit. HFY is an acronym that stands for "Humanity, Fuck Yeah!". HFY stories feature humanity portrayed in a favorable light, especially compared to an opposing – often alien – race.
The idea of people I've seen in movies reading stuff I've written is pretty wild! So thank you r/HFY for supporting and promoting the story, and for providing a welcoming place for people like me to post our random writings.

S.H. Serono (aka BeaverFur) sharing the news that Dust is going to produce his story Chrysalis in season 3 of their podcast series.
What the Heck is Copypasta?
What is copypasta? Think of text that's repetitively copied and pasted across the internet on forums and social networking sites. Beginning around 2006, the term derives from the words copy and paste. The best example of copypasta is the Bee Movie script. Around 2013, internet users would randomly copy and paste the entire movie script on various websites.
Don't confuse copypasta with its creepy cousin creepypasta. Creepypastas are brief user-generated horror-related stories. Slender man is the best example of creepypasta.
Critical Reception of the Original Story
According to a reviewer on the DarkLordPotter.net forum, "Chrysalis is worth a read if you enjoy a good story about AI and what it means to be human." Apart from a few reviews complaining about the ending episodes, Chrysalis was met with high praise. Of course, the ending wasn't really bad as those reviewers complained about. They simply didn't consider the subreddit the story was originally published in, r/HFY.
In response to fans asking for the author to turn Chrysalis into a novella, S.H. Serono (aka BeaverFur) clearly states his disinterest in the book editing process. Fair enough. It makes no sense to negatively critique a copypasta shared on a subreddit anyways. Serono mentioned challenging himself to write each chapter/episode in 3 days. I commend him for taking the time to write and share such an amazing sci-fi story.
Check it out for yourself and let me know what you think!