I hate sharing bad news. Unfortunately, Hulu forced my hand this time. The start of a new month should excite us. Every streaming provider adds a slew of sci fi movies to their library. That is, with the exception of Hulu.
This month is no exception. I cringed when I decided to write this article. If you are kind enough to read it, I promise you'll enjoy it. Despite the critical reception of each film, they have interesting backstories. As you may know, I love history. Some of the best sci fi novels and films were inspired by historical events. I'd wager a bet most works of science fiction were.
Allow me to enlighten you.
Universal Soldier (1992)
I loved Universal Soldier and everything Jean-Claude Van Damme movie…in the early 90's when I started high school. Now? Not so much. Some movies don't stand the test of time. Others weren't that good to begin with. Universal Soldier checks both boxes.
Let's add Universal Soldier to the list of movies that had more potential than it realized. The film name and inspiration likely stem from Buffy Sainte-Marie's song of the same name. Sainte-Marie's song spoke of soldiers' experiences during the Vietnam War. During a major shift from the original script, executives scrapped the film's original title of Crystal Soldiers and changed the soldiers' backgrounds by making them Vietnam veterans. The original script was much darker, too. Perhaps that's one change that should have remained the same.
Here's a tidbit of real-life drama: Both Universal Soldiers actors Van Damme and Lundgren started a legitimate fight during a promotional event for Universal Soldiers. Don't believe me? Check it out below.
Despite having a low Rotten Tomatoes 'Tomatometer' rating, Universal Soldier experienced box-office success in its 1992 theatrical release. The military science fiction action film was directed by Roland Emmerich, produced by Allen Shapiro, Craig Baumgarten, and Joel B. Michaels, and written by Richard Rothstein, Christopher Leitch, and Dean Devlin. It starred 90s action movie stars Jean-Claude Van Damme and Dolph Lundgren. These two were legends in the early 90s and were essentially cast out of Hollywood by the late 90s.
Plot
[From Wikipedia] The film tells the story of Luc Deveraux (Jean-Claude Van Damme), a former U.S. Army soldier who was killed in the Vietnam War in 1969, and returned to life following a secret military project called the "Universal Soldier" program. However, he finds out about his past even though his memory was erased, and escapes alongside a young TV journalist (Ally Walker). Along the way, they have to deal with the return of his archenemy, Sgt. Andrew Scott (Dolph Lundgren), who had lost his sanity in the Vietnam War, and became a psychotic megalomaniac, intent on killing him and leading the Universal Soldiers.
Lost In Space (1998)
I never subjected myself to the 1998 version of Lost In Space. Something about the campy purple color in the movie poster left me disinterested in the film. I guess that saved me from an unpleasant experience.
For you few sci fi fans unaware of the Lost In Space franchise of shows and movies, allow me to enlighten you. The first installment of Lost In Space began with the 1965 television series of the same name. "Master of Disaster" Irwin Allen, the creative mind behind the 1965 series, took inspiration from Johann David Wyss's 1812 book The Swiss Family Robinson.
Fast-forward to 1998 and this version of Lost In Space is one of many failed franchise reboots that continues today. You can watch the latest reboot on Netflix, which will end after its third season. What upsets me the most about the 1998 version is both Gary Oldman and Lennie James star in the feature film. They're two of my favorite actors and always look forward to checking out their work. With this one exception, of course.
Plot
[From Wikipedia] Lost in Space is a 1998 American science-fiction adventure film directed by Stephen Hopkins, and starring William Hurt, Matt LeBlanc, and Gary Oldman. The plot is adapted from the 1965–1968 CBS television series of the same name (itself inspired by the 1812 novel The Swiss Family Robinson by Johann David Wyss). Several actors from the TV show make cameo appearances. The film focuses on the Robinson family, who undertake a voyage to a nearby star system to begin large-scale emigration from a soon-to-be uninhabitable Earth, but are thrown off course by a saboteur and must try to find their way home.
Johnny Mnemonic (1995)
Before he was John Wick and before he was Neo, Keanu Reeves (my second favorite Canadian) was Johnny Mnemonic. Reeves began his foray into sci fi with Bill & Ted's Excellent Adventure, however, he jumped into the deep end with Johnny Mnemonic. Unfortunately, his performance hindered the movie, instead of helped it.
There really was no excuse for this film to flop as bad as it did. The father of sci fi cyberpunk, William Ford Gibson, blessed the world with the word "cyberspace", wrote the novel Neuromancer, advocated for online learning in the early 1990s, and wrote the short story Johnny Mnemonic.
"The idea was that all schools would be put online totally and that education would start taking place on the Internet. It's a fascinating thing you can do, pedagogical talent can be shared regardless of the physical whereabouts, it's got astonishing potential. Plus you're giving the children something that has the tactile appeal of video games, you're not giving them a sort of 19th-century education, which is what we are doing now.

— Author William Gibson in a 1995 interview on the Swedish television program Rapport
---
By the way – you should really read Neuromancer. It's that good. Pick up a copy on Amazon.
Another Dolph Lundgren movie! Keanu Reeves plays the title character, a man with a cybernetic brain implant designed to store information. The film portrays Gibson's dystopian view of the future with the world dominated by megacorporations and with strong East Asian influences. This was Dolph Lundgren's last theatrically released film until The Expendables in 2010.
I wish the Japanese released version of Johnny Mnemonic was available for streaming or purchase. With an additional 14 minutes of content, this version is much received much better feedback from critics. Unfortunately I can't seem to find a copy available for purchase on the entire internet.
Plot
[From Google Film Synopsis] Johnny (Keanu Reeves) is a data courier who has a secret stash of information implanted into his mind. However, the data will kill Johnny if he cannot retrieve it within 48 hours. Accompanied by physically enhanced bodyguard Jane (Dina Meyer), Johnny sets out to acquire the passwords he needs to save himself. Worse yet, he is hunted by gangster Shinji (Denis Akiyama) and businessman Takahashi (Takeshi), both of whom seek the data Johnny possesses.
Alien Nation (1988)
It's a bit harsh to call this one a bad movie. Alien Nation was a moderate success in its initial theatrical release. However, I find it a bit boring. Like Netflix's Bright movie starring Will Smith, Alien Nation was a throwback to similar sci fi buddy cop genre films such as Planet of the Apes and Silent Running.
Alien Nation received mostly negative reviews. Critics agreed the film lacked a sci fi theme and was more a police murder revenge flick. Roger Ebert declared, "Alien Nation feels like a movie made by people who have seen a lot of movies, but don't think the audience has."
Despite the negative reviews, the film won the Saturn Award for Best Science Fiction Film of 1988, and received two Saturn nominations for Best Supporting Actor for Mandy Patinkin. Alien Nation also received two other nominations, among them for Best Dramatic Presentation from the Hugo Awards.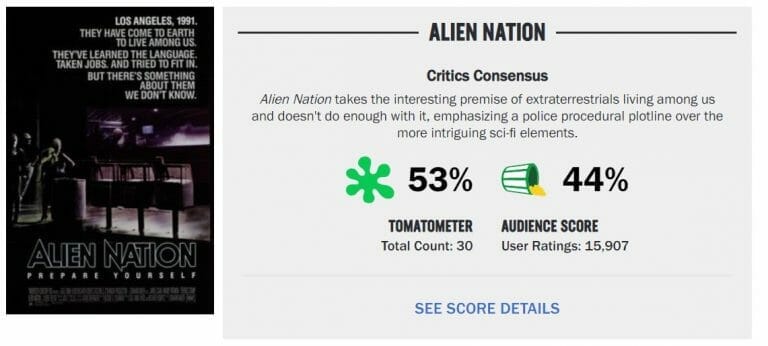 Plot
[From Wikipedia] The alien Newcomers are relegated to second-class status after landing on Earth. Like other minorities, they live in their own neighborhoods, frequent their own clubs, and develop their own underground. Following the murder of a policeman, a human must partner up with an alien to solve the murder. Their uneasy alliance creates a social mistrust, dealing with issues such as prejudice and racism. By the end of the saga, the two completely different humanoids have combined their talents and overcome their social barriers to complete their task.
Conclusion
Overall, I'm not enthusiastic about the movies heading to Hulu this November. Do you agree with me? If not, let me know!