You read that right: Netflix canceled the newly released space-voyage series Away, starring Hilary Swank, only six weeks after the 10-episode first season released on September 4th.
Away joins an ever-growing list of semi-successful series canceled by either a streaming media platform or network channel. Last I checked, the list of canceled shows is close to 90 this year, including other successful Netflix series like I Am Not OK With This, Altered Carbon, GLOW, The Dark Crystal: Age of Resistance, The Society, and most recently announced Mindhunters (sadly, my favorite show).
Sci Fi Series Synopsis
Away stars executive producer Hilary Swank as astronaut Emma Green, the leader of a crewed expedition to Mars – the first of its kind. The series follows Green as she leaves her husband and teenage daughter behind to lead the mission to Mars.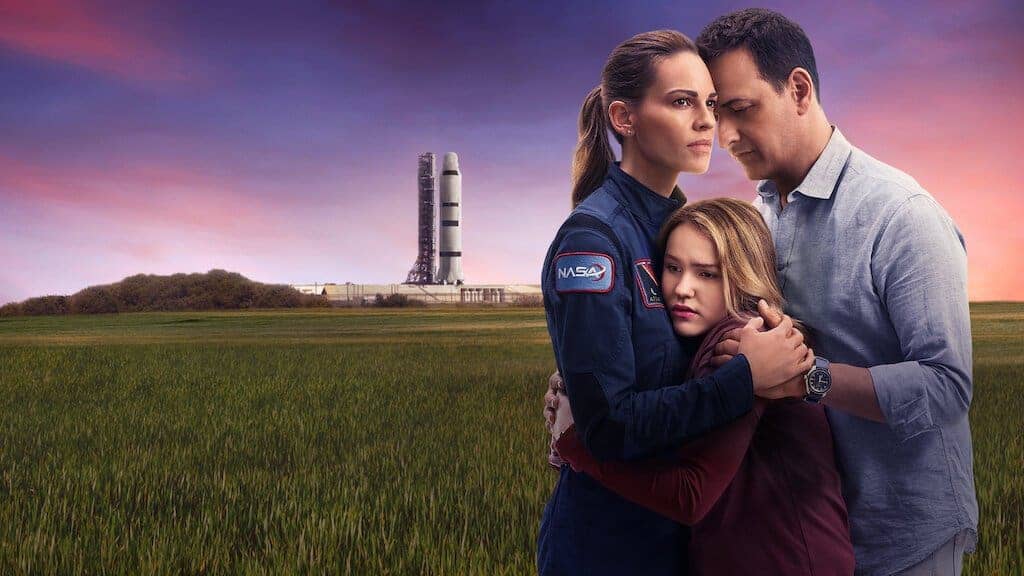 Green and her crew, board the spaceship "Atlas" as members of the Mars Joint Initiative. Conflict arises between Green and her international crew (Chinese, Russian, Indian, and British) right from the beginning, as they judge a questionable decision she made.
Other primary cast includes Josh Charles as Matt Logan, Vivian Wu as Dr. Lu Wang, Mark Ivanir as Misha Popov, Ray Panthaki as Ram Arya, and Ato Essandoh as Dr. Kwesi Weisberg-Abban. Away creator Andrew Hinderaker received inspiration for the show from Chris Jones's Esquire article of the same name.
Netflix's Away Experienced Sci-Fi Success
Away became the second most-watched series on Netflix in September. The series spent 24 days in the U.S. top 10 list, including 12 days at the number one spot. Even more impressive, Away spent several weeks in the top 10 Nielsen streaming viewership rankings, with a peak of number 2 during its first full week of release.
Netflix and Nielsen ratings can be misleading, however. In January, Netflix lowered the bar for its definition of a "view", reducing the viewed time as anything watched for over two minutes. This means a show can get a lot of "views" without anyone really watching it.
Not everything came up roses for the show. Away received mixed reviews from critics. Some critics praised the cinematography and polished look, while others complained the series didn't take advantage of its science fiction elements.
Perhaps attempting to capture a wide audience rather than fans of sci fi, Away took the middle road when handling drama, politics, and space exploration. Many critics assessed Away as merely a family drama with a dash of sci fi.
Away has a 60% audience score on Rotten Tomatoes.
Hilary Swank Responds to Netflix's Cancellation of 'Away'
Swank said that her role in Away allowed her to live out her childhood dream of becoming an astronaut. She shared an Instagram post the day after the series cancellation was announced.
"Love and hope will always remain my 'North Star.' It was an incredible journey my compadres.And thank YOU to all my extraordinary followers who watched and supported our beautiful show. Wish we were showing you Mars. Until the next one." -Hilary Swank on Instagram
Why did Netflix cancel 'Away'?
Netflix has yet to explain why it canceled the series, despite the show's popularity. Like many small businesses, the canceled series likely failed due to the economic impact of COVID-19. Netflix and others just aren't generating enough revenue to justify even their most successful (and most expensive to produce) shows.
One often-repeated explanation Netflix uses when justifying series cancellations is "viewership versus cost". It's likely safe to assume the cost of producing Away was rather high consider the science fiction aspect of the show. Netflix clearly demands much more from its series now as a possible sign of financial hardship for the media giant.
Conclusion
Despite the series' strong release, Netflix made the decision to cancel Away on October 20. Up until a few weeks ago, Away creator Hinderaker spoke optimistically about the series renewal in an interview with The Capital Times.
"There's no news to break in terms of whether we know that there will be future seasons, but the plan was always for a multi-season arc. Part of the reason the show is called Away is we were always interested in that journey, and what happens when they go home. There's this phenomenon among astronauts, it's so fascinating, where home becomes space, and they feel away back home. And, of course, that's amplified in a mission to Mars where you've been gone for three years."
Fortunately for fans, the series didn't end with a cliff-hanger. Green and her crew safely touch down on Mars. In the final scene, audiences see Green and her crew standing on the surface of Mars, about to begin their 18-month stay on the Red Planet. Unfortunately, audiences will see how the 18-month say pans out.
If you're interested in more content about Netflix, check out this post!